Dallas's Great Hotel Pools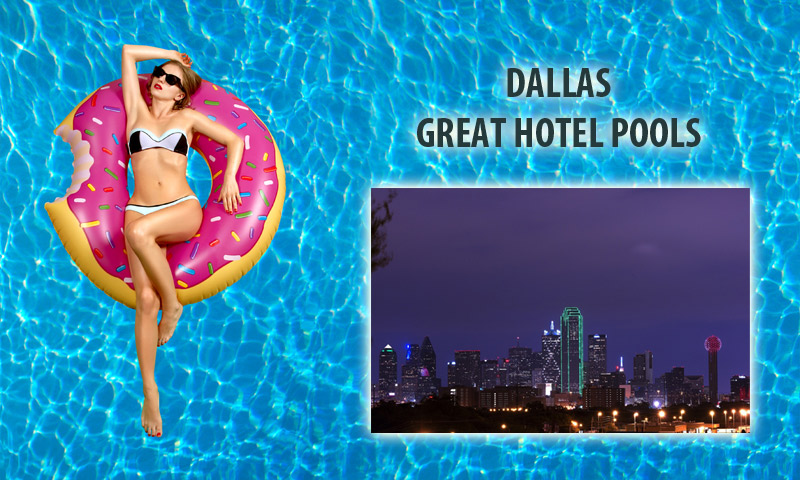 Big D is a hip town with many different destinations scattered all over the Metro Plex. Chic Hotel's, Large Golf Resorts, 5 Star Luxury in Uptown, and a few budet options are all awating your next travel stop or stay-catoin. There are several upscale districks in the downtown region. The Cowboys, Rangers, and Fix Flags all call Arlington home. Decent affordible lodging can be found in North Dallas\Richardson\Addion area, and is an easy commute into downtown.
The Anatole sits atop our Great Hotel Pools in Dallas list. It more like a mini water part, and the rest of the hotel is also just top noth. It's on a big site just a very short Uber away from the entertiment of downtown.
The Joule has a rooftop bar and pool area that is a favorite for locals and travelers looking for a high roller scene.
Hotel ZaZa is great upscale hotels with a tiny pool that has a really amazing fountian in it.
The Great Wolf Lodge has a large indoor waterpark and golf course, but it's located on the outskirts of the Metroplex and is close to another Big Fancy Resort,  The Gaylord.
Las Colinas has nice pool along with golfing opportunities and located about 1/2 between Dallas and Ft. Worty.
Pool Adolphus is a new fancy place, but we have not had a chance to check it out in person yet.
Hotel Crescent Court nice hotel with a small but nice pool in downtown.
Other fun Pools and Water Parks in Dallas
Bahama Beach is located in south Dallas, with King Spa and Jade at the Anotole. If you are willing to make a trip outside the city Burger's Lake is a cool place.
Altitude H20 is billed as the largest water obstical course in Texas. If you have not tried one of these out yet, give is a shot. They are super fun.
Six Flags Hurricane Hardor is Arlengot is the Big Daddy of the Dallas water parks.

Last but not leaset, you can find a Hawaiin Falls water park in Garland and Epic in Grand Prarie.
Lakes near Dallas
White Rock Lake - A small city lake just NE of SMU. Nice biking trails.
Lewisville Lake - A large all purpose lake just North of Dallas.
Texoma - One of the Big Pary lakes the locals in Dallas like to travel to. It's on the Texas Oklahoma border and is a massive reservoir.
Hotel Got Pool provides premium listings for only hotels with a pool. This is one of many Travel and Tourism websites run by The Great Travel Site.
Sponsors